A durable power of attorney for finances — or financial power of attorney — is a simple, inexpensive, and reliable way to arrange for someone to manage your finances if you become incapacitated (unable to make decisions for yourself).
A financial power of attorney is a good document to make for yourself, but it can also be a great blessing for your family. If you become unable to decide for yourself and you haven't prepared a durable power of attorney, a court proceeding is probably inescapable. Your spouse, closest relatives, or companion will have to ask a court for authority over at least some of your financial affairs.
When a Financial Power of Attorney Takes Effect
A financial power of attorney in Florida takes effect immediately unless your power of attorney was executed before October 11, 2011.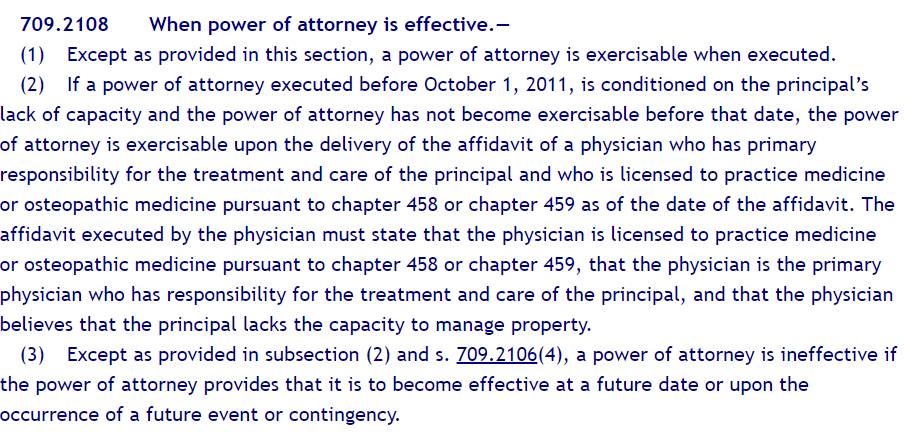 Prior to October 11, 2011, you could specify that the power of attorney would not go into effect unless a doctor certified that you had become incapacitated. This was called a "springing" durable power of attorney, but it is no longer allowed in all powers of attorney drafted after the October 2011 date.
Your Agent's Job
When you create and sign a durable power of attorney, you give another person legal authority to act on your behalf. This person is called your agent or, in some states, your attorney-in-fact.
Commonly, people give their agent broad power to handle all of their finances. But you can give your agent as much or as little power as you wish. You may want to give your agent authority to do some or all of the following:
use your assets to pay your everyday expenses and those of your family
buy, sell, maintain, pay taxes on, and mortgage real estate and other property
collect Social Security, Medicare, or other government benefits
invest your money in stocks, bonds, and mutual funds
handle transactions with banks and other financial institutions
buy and sell insurance policies and annuities for you
file and pay your taxes
operate your small business
claim property you inherit or are otherwise entitled to
transfer property to a trust you've already created
hire someone to represent you in court, and
manage your retirement accounts.
The agent is required to act in your best interests, maintain accurate records, keep your property separate from his or hers, and avoid conflicts of interest.
Making a Financial Power of Attorney
To create a legally valid durable power of attorney, it is always best to sit with an attorney to make sure the document is validly prepared and executed. There are DIY forms all over the internet, but for a document as important as this, it is imperative that it be done right from the start. Imagine creating a power of attorney using an online form you found, and then, years later when you've become incapacitated, your relatives discover it is incorrect in the format or execution. At this point, they will need to establish a Guardianship to be able to manage your financial affairs. Guardianships are public, lengthy, and above all costly, as you cannot DIY them and Courts require you be represented by an Attorney.
When a Financial Power of Attorney Ends
Your durable power of attorney automatically ends at your death. That means that you can't give your agent authority to handle things after your death, such as paying your debts, making funeral or burial arrangements, or transferring your property to the people who inherit it. If you want your agent to have authority to wind up your affairs after your death, use a Will to name that person as your Executor/Personal Representativeor as a Trustee in your Trust.
Your durable power of attorney also ends if:
You revoke it. As long as you are mentally competent, you can revoke a durable power of attorney at any time.
You get a divorce. In a handful of states, if your spouse is your agent and you divorce, your ex-spouse's authority is automatically terminated. In other states, if you want to end your ex-spouse's authority, you have to revoke your existing power of attorney. In any case, it's wise to make a new document as soon as you file for divorce.
A court invalidates your document. It's rare, but a court may declare your document invalid if it concludes that you were not mentally competent when you signed it, or that you were the victim of fraud or undue influence.
No agent is available. To avoid this problem, you should name an alternate agent in your document.
Some information provided by Nolo Wills, Trusts and Estate Planning Center of ARAG
Photo by Matthias Zomer from Pexels